Posted by:

Pdfprep
Post Date:
October 16, 2020
---
Pdfprep
Click the exhibit.

You created an aggregate interface between your FortiGate and a switch consisting of two 1 Gbps links as shown in the exhibit.

However, the maximum bandwidth never exceeds. 1 Gbps and employees are complaining that the network is slow. After troubleshooting, you notice only one member interface is being used. The configuration for the aggregate interface is shown in the exhibit.

In this scenario, which command will solve this problem?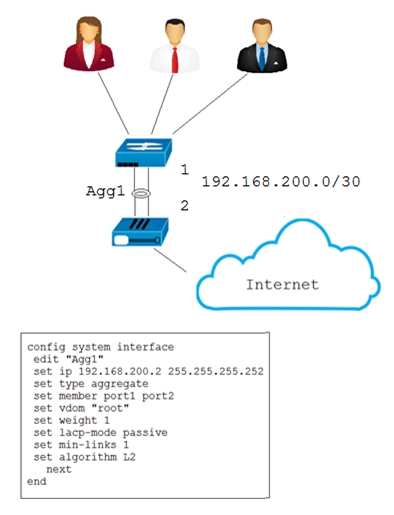 A . config system interface
edit Agg1
set min-links 2
end
B . config system interface
edit Agg1
set weight 2
end
C . config system interface
edit Agg1
set Algorithm L4
end
D . config system interface
edit Agg1
set lacp-mode active
end
Answer: A