Posted by:

Pdfprep
Post Date:
October 15, 2020
---
Pdfprep
HOTSPOT

Note: This question is part of a series of questions that present the same scenario. Each question in the series contains a unique solution that might meet the stated goals. Some question sets might have more than one correct solution, while others might not have a correct solution.

After you answer a question in this section, you will NOT be able to return to it. As a result, these questions will not appear in the review screen.

You need to configure the AD FS servers to meet the technical requirement for accessing Office 365 from a web browser.

What command should you run? To answer, select the appropriate options in the answer area.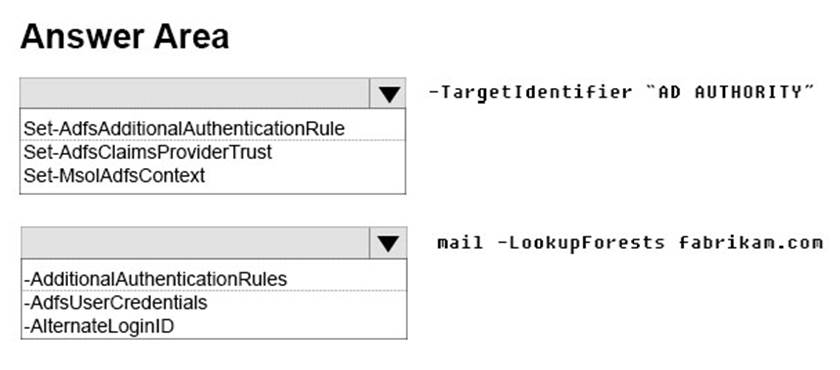 Answer: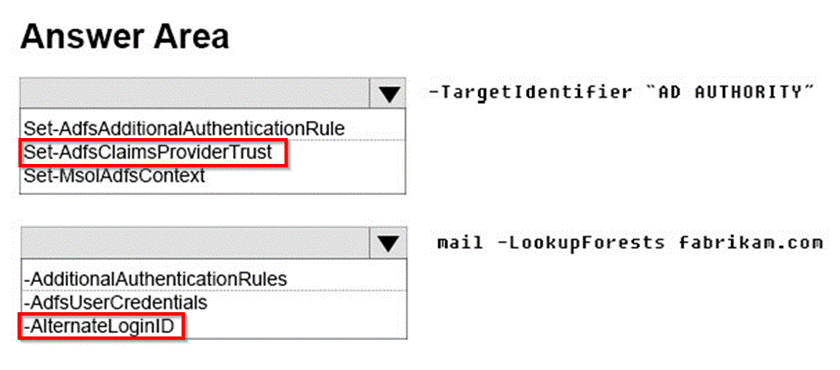 Explanation:

The Set-AdfsClaimsProviderTrust cmdlet is used to configure the trust relationship with a claims provider. The CAlternateLoginID parameter identifies the LDAP name of the attribute that you want to use for login.

Explanation: https://technet.microsoft.com/en-us/library/dn479371(v=wps.630).aspx