Posted by:

Pdfprep
Post Date:
October 14, 2020
---
Pdfprep
DRAG DROP

You need to recommend the VPN protocols for Proseware.

What should you recommend? To answer, drag the appropriate VPN protocols to the correct offices. Each protocol may be used once, more than once, or not at all. You may need to drag the split bar between panes or scroll to view content,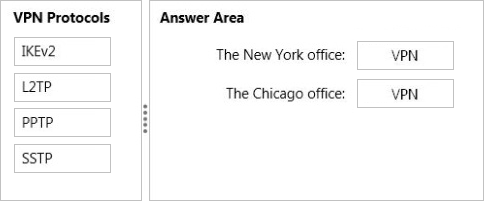 Answer: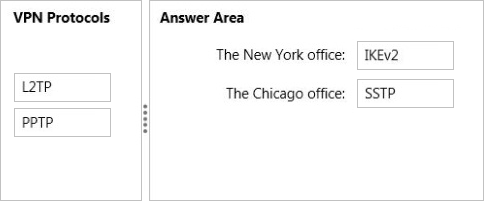 Explanation:

* Scenario:

/ Give users remote access to both offices by using a VPN connection from their laptop or tablet.

/ Users in the New York office must be able to reconnect to the remote access VPN servers automatically. Users in the Chicago office must use SSL to connect to the remote access VPN servers.

* IKEv2

Internet Key Exchange (IKE or IKEv2) is the protocol used to set up a security association (SA) in the IPsec protocol suite. IKE uses X.509 certificates for authentication.

* SSTP

Secure Socket Tunneling Protocol (SSTP) is a form of VPN tunnel that provides a mechanism to transport PPP or L2TP traffic through an SSL 3.0 channel.