Posted by:

Pdfprep
Post Date:
October 11, 2020
---
Pdfprep
DRAG DROP

You need to recommend a solution for managing Windows Azure.

Which three actions should you recommend performing in sequence? To answer, move the appropriate actions from the list of actions to the answer area and arrange them in the correct order.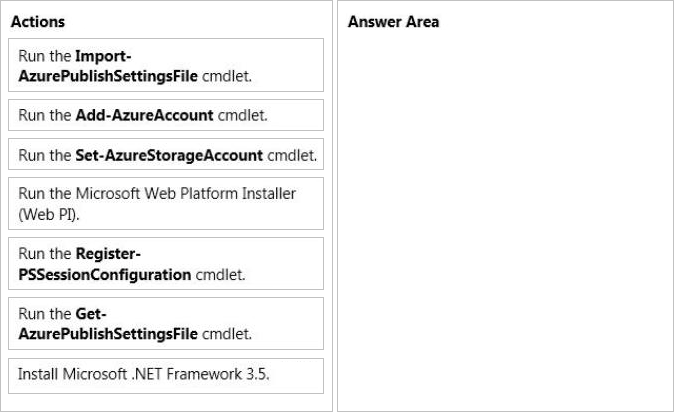 Answer: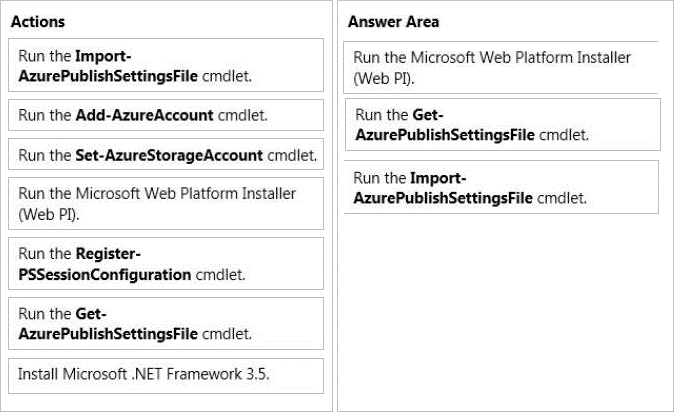 Explanation:

* Get-AzurePublishSettingsFile

The Get-AzurePublishSettingsFile cmdlet opens your default browser, signs into your Windows Azure account, and automatically downloads a .publishsettings file that contains information and a certificate for your Windows Azure subscription. This file is used by the Import-AzureSubscription cmdlet and is an XML file with a ".publishsettings" extension.

* The Import-AzurePublishSettingsFile cmdlet imports a .publishsettings file that has been downloaded using the Get-AzurePublishSettingsFile cmdlet. This file contains settings and an encoded certificate that provides management credentials for the Windows Azure account.

* Set-AzureStorageAccount

The Set-AzureStorageAccount cmdlet updates the properties of an Azure storage account in the current subscription.