Posted by:

Pdfprep
Post Date:
October 11, 2020
---
Pdfprep
DRAG DROP

Your network contains an Active Directory domain named contoso.com. All domain controllers run Windows Server 2012. The domain contains an organizational unit (OU) named OU1. OU1 contains an OU named OU2. OU2 contains a user named User1. User1 is the member of a group named Group1. Group1 is in the Users container. You create five Group Policy objects (GPO).

The GPOs are configured as shown in the following table.

The Authenticated Users group is assigned the default permissions to all of the GPOs.

There are no site-level GPOs.

You need to identify which three GPOs will be applied to User1 and in which order the GPOs will be applied to User1.

Which three GPOs should you identify in sequence?

To answer, move the appropriate three GPOs from the list of GPOs to the answer area and arrange them in the correct order.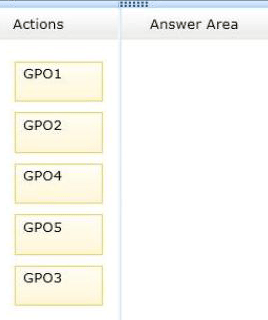 Answer:

Explanation:

Note:

* Box 1: Domain GPOs are applied before OU GPOs.